Big Questions Little Time - Webinars on Sustainable Development
---
Date and time
Friday 24. September 2021 at 14:00 to 15:00
Registration Deadline
Friday 24. September 2021 at 15:00
Location
Webinar (Zoom) Webinar (Zoom)
Big Questions Little Time - Webinars on Sustainable Development
---
Event Description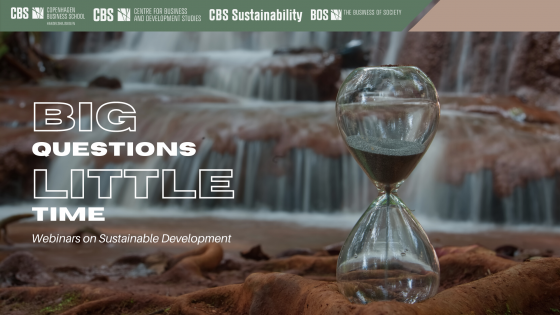 Big Questions Little Time - Webinars on Sustainable Development  - 24/9/2021 14.00-15.00 (CET)

Come and join CBS Sustainability and Center for Business and Development Studies for our second webinar in the series Big Questions Little Time - Webinars on Sustainable Development.


"Can sustainable business really be achieved through responsible management education? If so, how?" featuring Mette Morsing, Global Head of PRME, UN Global Compact

Mette Morsing, Global Head of PRME Principles of Responsible Management Education, UN Global Compact (New York) will talk about if and how responsible management education can be the foundation for sustainable business practices.


Abstract
The UN Secretary General has called for us all to deliver on the Decade of Action. It seems that the planet and its people are calling for even more immediate action.
How may management schools and in particular leadership education offer a way to contribute to the wicked problems on the planet? There is no easy or 'one-way quick-fix' solution to these problems and in this Big Questions Little Times Webinar Series, I will focus on three issues of strategic importance - 3 x S: Society, Students and South.
Society. Ten years back the idea of how does sustainable development benefits the corporate economic bottomline dominated the point of attention of CSR studies and corporate sustainability research and teaching. Evidencing the so-called 'business case for CSR' received a lot of scholarly attention. At the PRME Global Forum 2021 this attention seem to have changed. Critical questions were raised from Deans, professors, students and business leaders about how to redirect the curriculum and pedagogies in the classroom into theorizing, frameworks and toolkits that appreciate that it is not the corporation but society that is at the center of the stakeholder model.How do we put society first as the core of business school education?
Students. Business schools around the world are educating and granting degrees to thousands of future leaders every year. We know that is the 'ideas' that we train these young students with that matter for how they will make decisions that perpetuate or transform the world as they enter into it in their role as business leaders. However, the predominant way of designing a curriculum and designing the classroom experience still seems to establish students as passive recipients of the professorial knowledge. How do we create contexts to mobilize student agency in the classroom and beyond?
South. Most of us are familiar with Professor Khurana's critical research on how Northern business schools have set the tone for global business school education followed by a need to locally reorient and contextualize business school education to mirror regional realities and needs. In my many recent conversations with Business School Deans I have come across a new call to action that targets the need for the so-called Global South to 'step up'. 'Step up' in the sense of 'showing courage' to develop that narrative about how emerging economies contribute to real societal impact on the local, regional and global communities. How do we create a global pace for 'Global South' management education to share knowledge about leadership education with the Global North?


About Mette Morsing:
Mette Morsing (Ph.D. 1994), Global Head of PRME Principles of Responsible Management Education, UN Global Compact (New York). Before May 2020, Mette Morsing was the Mistra Chair of Sustainable Markets and Executive Director of Misum: Mistra Center for Sustainable Markets at Stockholm School of Economics (Sweden) (since 2017). She was also Professor of Corporate Social Responsibility at Copenhagen Business School (CBS, Denmark) (since 2007). She was the Founding Director of CBS Center for Corporate Social Responsibility in 2002, and she was the Academic Director of CBS Sustainability Platform 2011-2016 with the assignment to integrate sustainability across fifteen academic departments. In 2003, she was the co-founder of Academy of Business in Society (ABIS, Bruxelles), where she served as a Member of the Board of Directors for 10 years. Morsing was in 2010 appointed as a member of the executive board of directors at LEGO Foundation and Melting Pot, and in 2016 she was elected by her colleagues to serve on CBS Board till 2020. Morsing has held a large number of advisory and honorary positions in corporate councils and policy committees on issues related to sustainability. She has been teaching sustainability-related topics at undergraduate, graduate, Phd and MBA executive programs over the past two decades.


About the webinar series:
This idea behind this webinar series is to bring in international thought leaders, representing a wide variety of fields and disciplines. Following the same structure for each seminar, we wish to critically explore if, how, and under which conditions any given approach can bring about change and contribute to sustainable development. 

The title of this webinar series refers not only to the inherent urgency for us to find possible solutions to the societal challenges we are facing, but also the 60 minute time frame for each session. 

On this site, you can find the audio and video podcasts of the sessions. If you wish to stay in the loop and attend the live sessions, please sign up for the monthly CBS Sustainability newsletter or contact the centre manager of both centres, Sarah Netter.

Organizer Contact Information
Copenhagen Business School
CBS sustainability
Phone: +45 3815 3815
sustainability@cbs.dk
Organizer Contact Information
Copenhagen Business School
CBS sustainability
Phone: +45 3815 3815
sustainability@cbs.dk