Training Day 2: Become Carbon Literate
Cancelled
---
Date and time
Thursday 9. September 2021 at 17:00 to Thursday 9. December 2021 at 19:00
Registration Deadline
Wednesday 8. September 2021 at 21:00
Location
CBS, SP202, Solbjerg Plads 3, 2000 Frederiksberg CBS, SP202
Solbjerg Plads 3
2000 Frederiksberg
Training Day 2: Become Carbon Literate
Cancelled
---
Introduction to Carbon Literacy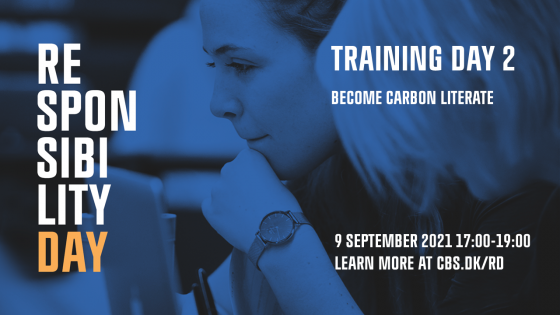 Welcome to the secondTraining Day!
In this session we will all get an introduction to what it means to be Carbon Literate and to how we can begin to calculate CO2 emissions.

- Introduction to the science behind Climate Change
- Introduction to carbon footprint
- Introduction to Carbon calculations

This is an introduction session which is followed by two Carbon Literacy Training Days. Those wishing to receive a Carbon Litearcy certification are invited to join one of the two training teams in September and October. 


The session is hosted by Lavinia Iosif-Lazar from CBS PRME office. Lavinia has co-taught the Carbon Litearcy trainings at CBS since 2019 and is project lead at the CBS Principles for Responsible Management Education office, part of the UN Global Compact Initiative UNPRME.
We are looking forward to welcome you in SP202! 

*Please note, this event is reserved only for CBS 1st year bachelor students. 

Organizer Contact Information
Copenhagen Business School
Phone: +45 3815 3815
prme@cbs.dk
Organizer Contact Information
Copenhagen Business School
Phone: +45 3815 3815
prme@cbs.dk