Training Day 3: Learn to Write a Case Report
---
Date and time
Wednesday 15. September 2021 at 17:00 to Wednesday 15. December 2021 at 19:00
Registration Deadline
Wednesday 15. September 2021 at 12:00
Location
CBS, SP202, Solbjerg Plads 3, 2000 Frederiksberg CBS, SP202
Solbjerg Plads 3
2000 Frederiksberg
Training Day 3: Learn to Write a Case Report
---
Introduction to Case Report Writing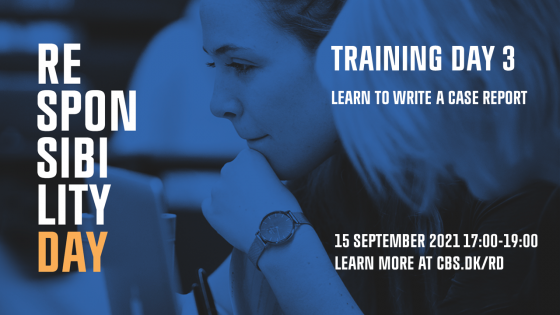 Responsibility Day Training: Learn to write a case report!
​​​​​​​We invite you to participate in the third Responsibility Day Training - Learn to write a case report!
​​​​​​​In this session we will teach you how to structure and write a compelling case report:
The purpose of the case report
How to structure your report
The report writing process

Executive Summary
Analysis
Solution
Impact
Summary
Appendix

Exercise
How to use argumentation and persuasion
Tips and tricks for your report writing process
Questions
The session is hosted by Caroline Risager Krzton from CBS Case Teams. Caroline is one of CBS' Case Coaches and responsible for the selection and training of the students representing CBS in international case competitions.    
Sign up now and secure your seat.
We are looking forward to welcome you in SP202!  

*Please note, this event is reserved only for CBS 1st year bachelor students.

Organizer Contact Information
Copenhagen Business School
Phone: +45 3815 3815
prme@cbs.dk
Organizer Contact Information
Copenhagen Business School
Phone: +45 3815 3815
prme@cbs.dk