International Women's Day - 8. March 2019
---
Date and time
Friday 8. March 2019 at 13:30 to 18:00
Registration Deadline
Tuesday 5. March 2019 at 09:05
Location
CBS Ovnhallen, Porcelænshaven 20, 2000 Frederiksberg CBS Ovnhallen
Porcelænshaven 20
2000 Frederiksberg
International Women's Day - 8. March 2019
---
Event Description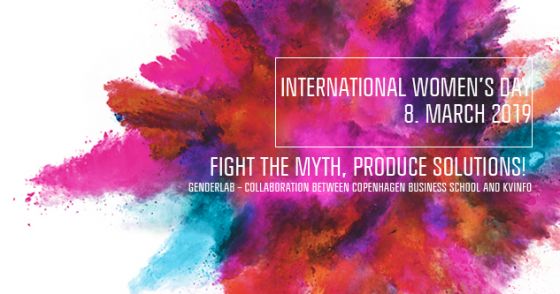 Join us when Copenhagen Business School and KVINFO invite you for a collaborative event on Women's Day 2019.
The event takes place at CBS on Friday, 8. March and the theme of the day addresses gender diversity on the Danish labor market.
The program holds keynote speakers Sofie Carsten Nielsen, Danish politician, Det Radikale Venstre and Professor Jeff Hearn, Gender researcher, Hanken School of Economics and Örebro University.
Another highlight of the day is the interactive Gender LAB where all participants actively produce new solutions relating to cases presented by Danish businesses and organizations: Roskilde Festival, The Danish Military and Copenhagen Business School. Spoken word performer Sara Rahmeh will do the warm up!
The program is linked to KVINFO's evening program in VEGA later the same day.
The event is held in English and will be moderated by Miriam Zesler, TV2 News.
Up to 500 are expected to participate – and you are most welcome, too.

Please find updated program on CBS Diversity and Difference Platform's website.

The program end at 18.00 followed by networking and wine and snack reception.