WORKSHOP: Co-creating Gender Equality from Classroom to Organization - Innovations in Nordic Welfare Societies
---
Date and time
Tuesday 2. April 2019 at 09:30 to 15:00
Registration Deadline
Tuesday 2. April 2019 at 09:30
Location
KS43, Kilen, 2000 Frederiksberg KS43
Kilen
2000 Frederiksberg
WORKSHOP: Co-creating Gender Equality from Classroom to Organization - Innovations in Nordic Welfare Societies
---
Event Description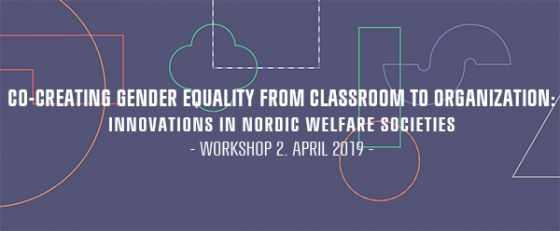 Hanken School of Economics, KTH Royal Institute of Technology Stockholm, and Copenhagen Business School (CBS) together with KVINFO are inviting to a workshop on 'Co-creating Gender Equality from Classroom to Organization: Innovations in Nordic Welfare Societies' on April 2nd, 2019 at Copenhagen Business School.
Unequal gender relations, gender stereotypes and prejudices still constitute a significant barrier for people's careers and family life. Hanken, KTH and CBS therefore created a series of workshops providing a creative shared platform to jointly develop new knowledge, practices, tools, and ideas for gender equality work.
During the workshop on April 2nd, participants will be led though an interactive GenderLAB, a format that is developed by KVINFO in collaboration with CBS. The GenderLAB uniquely combines design thinking approaches, which are often used in innovation work, with norm-critical methods, that allow to challenge commonly held assumptions and reveal hidden norms, unconscious bias and invisible power structures. This allows to open up new perspectives and identify new ways for organisations to tackle gender inequality.
GenderLAB will provide an innovative way to tackle complex problems and to co-create solutions on three interrelated topics: gender-influenced educational choices by young people (T1), problems due to norms of masculinity in leadership (T2), and gendered organizational norms (T3).
The workshop is led by a team of researchers and practitioners with relevant expertise and experience in fields such as masculinity research, diversity management, organisational studies, leadership, gender studies, queer and feminist theory. With their guidance, participants can maintain a critical focus on how opportunity is often gendered - in the classroom, in organizations and in leadership. They thus become part of a Nordic community of students, teachers, colleagues and leaders, taking an active part in creating more equal opportunities now.
Participants: The workshop is open to and targeted towards business and academic leaders, educators, managers, students, volunteers, NGOs, educational institutions, and youth/student organisations who wish to engage with said issues on a practical, co-creative level and from a norm-critical, innovative perspective.
Bringing together a diverse mix of people allows for discussing the topics in one shared forum and for creating effective solutions together that can be tested in specific partner organizations. Coming out of the workshop, all participants will know how to take better action for more gender equality in their own organizations and work environment.
The workshop is free of charge for all participants, however the number of seats available is limited.

The topics in detail (please choose your priorities when registering):
T1 explores how to encourage young people of all genders to choose their education less based on gender-related norms and expectations. This relates to goals of equal access to education, learning and research to develop personal ambitions, interests and talents.
T2 considers the problems that norms of masculinity pose for people in leadership positions. How to break 'the glass ceiling' and dismantle 'boys clubs' will be discussed. It will also be considered how to develop other legitimate forms of masculinity in male leadership and how to make it more accessible for people of all genders to lead with diverse leadership styles.
T3 deals with deeply gendered norms in organizations, including the problem of sexual harassment in the work place as gender-related violence. It relates to issues of equal opportunity to labour market participation, reconciliation of family and work, and (mental) health.
Date: Tuesday 2. April 2019 at 09:30 to 15:00
Location: Copenhagen Business School, Kilen, Kilevej 14 A/B – 2000 Frederiksberg
Room: Ks43
Price: free of charge
Registration Deadline: Tuesday 26. March 2019 at 12:30

As spaces are limited please sign up as soon as possible.
Please note that the workshop day will be video recorded for research purposes. The material will be anonymised and not be published or shared with any third parties.
A detailed program will be shared after registering.