Big Questions Little Time - Webinars on Sustainable Development
---
Date and time
Wednesday 25. May 2022 at 14:00 to 15:00
Registration Deadline
Wednesday 25. May 2022 at 14:00
Location
Webinar (Zoom) Webinar (Zoom)
Big Questions Little Time - Webinars on Sustainable Development
---
Event Description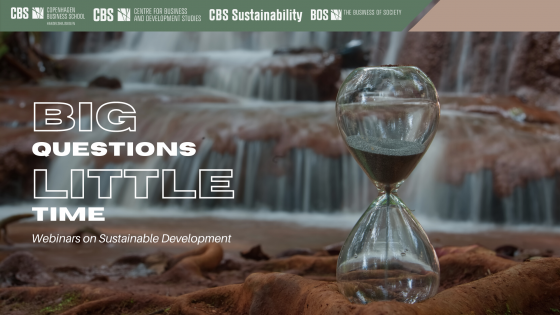 Big Questions Little Time - Webinars on Sustainable Development  - 25/05/2022 14.00-15.00 (CET)

Come and join CBS Sustainability and Center for Business and Development Studies for our next webinar in the series Big Questions Little Time - Webinars on Sustainable Development.

"Are global value chains really resilient? Lessons from the Covid-19 pandemic and the war in Ukraine" featuring Gary Gereffi, Director, Global Value Chains Center, Duke University, Durham, NC / USA
Abstract: 
Global supply chains have become a pervasive feature of daily life since the onset of the COVID-19 global pandemic in early 2020. However, the vulnerabilities created by supply-chain fragmentation have been an aspect of national security concerns due to the rise of economic nationalism, fraying geopolitical alignments, and trade wars since at least 2016. This presentation explores what global value chain (GVC) resiliency means in a post-pandemic world. A starting point is to recognize that resiliency is a multidimensional concept that has different meanings at three levels: the firm (operational efficiency vs. risk management); global industries or GVCs (appropriate governance structures and various diversification options); and countries (national security plus economic, social, and environmental priorities). COVID-19 medical supplies will be used to illustrate how resiliency dynamics vary at the product level, and the Russian military conflict with Ukraine is highlighting how global supply chains can be weaponized at the multilateral level. A few policy options for creating more resilient supply chains post-pandemic will be discussed.



About Gary Gereffi:
Gary Gereffi is Emeritus Professor of Sociology and Director of the Global Value Chains Center at Duke University (https://gvcc.duke.edu/).  He received his B.A. degree from the University of Notre Dame and his M.Phil. and Ph.D. degrees from Yale University.  Gereffi has published over a dozen books and numerous articles on globalization, industrial upgrading, and social and economic development, and he is one of the originators of the global value chains framework.  Recent books include:  Global Value Chains, Governance and Globalization Strategy (Gary Gereffi, Pavida Pananond and Torben Pedersen, co-editors), special issue of Global Strategy Journal, 10(3), 2020; Handbook on Global Value Chains (Stefano Ponte, Gary Gereffi and Gale Raj-Reichert, co-editors), Cheltenham, UK: Edward Elgar Publishing, 2019; Global Value Chains and Development: Redefining the Contours of 21st Century Capitalism (Cambridge University Press, 2018); and Global Value Chains in a Postcrisis World: A Development Perspective (The World Bank, 2010). 
Current projects include:  (1) the impact of the COVID-19 pandemic on the resilience of global supply chains; (2) the impact of U.S. protectionism on jobs and regional trade agreements; (3) evaluating how the digital economy and Industry 4.0 are likely to affect international business strategies and economic, social and environmental upgrading; and (4) shifting regional interdependencies in East Asia and North America, with a focus on China, South Korea and Mexico vis-à-vis the United States. 
Gereffi was invited to testify at the US Senate Commerce Committee hearings on "Implementing Supply Chain Resiliency" in Washington, DC on July 15, 2021. The hearing details  and the video recording (webcast) are presented here, along with a follow-up Duke interview.

About the webinar series:
This idea behind this webinar series is to bring in international thought leaders, representing a wide variety of fields and disciplines. Following the same structure for each seminar, we wish to critically explore if, how, and under which conditions any given approach can bring about change and contribute to sustainable development. 

The title of this webinar series refers not only to the inherent urgency for us to find possible solutions to the societal challenges we are facing, but also the 60 minute time frame for each session. 

On this site, you can find more information on the sessions. If you wish to stay in the loop and attend the live sessions, please sign up for the monthly CBS Sustainability newsletter or contact the centre manager of both centres, Sarah Netter.

Organizer Contact Information
CBS Sustainability & Center for Business and Development Studies

sn.msc@cbs.dk
Organizer Contact Information
CBS Sustainability & Center for Business and Development Studies

sn.msc@cbs.dk