Creating LGBTQIA+ inclusive workplaces – cases and practices from Danske Bank, Coca-Cola, Mærsk, Google, ISS, and CBS
---
Date and time
Friday 19. August 2022 at 08:30 to 11:00
Registration Deadline
Friday 19. August 2022 at 08:30
Location
SP201 Danske Bank Aud., Solbjerg Plads 3, 2000 Frederiksberg SP201 Danske Bank Aud.
Solbjerg Plads 3
2000 Frederiksberg
Creating LGBTQIA+ inclusive workplaces – cases and practices from Danske Bank, Coca-Cola, Mærsk, Google, ISS, and CBS
---
Event Description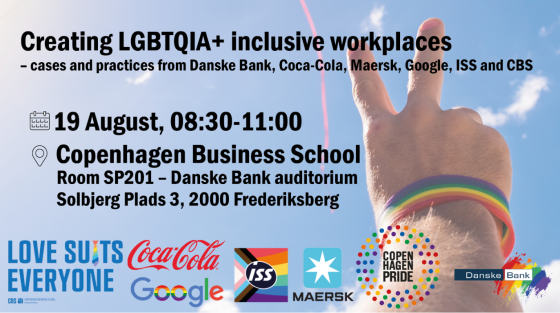 It is with great pleasure that we, as part of Copenhagen Pride 2022, invite you and your organisation to this morning event dedicated to championing diversity and LGBTQIA+ workplace inclusion. 
Companies with documented experience working with and for diversity and inclusion in their organisations share knowledge and insights during this year's Copenhagen Pride Week. We hope that other workplaces will find inspiration and leave the event with new ideas for initiatives. 
When: Friday 19 August 08:30 - 11:00

Where: Copenhagen Business School, room SP201 – Danske Bank Lecture Hall, Solbjerg Plads 3, 2000 Frederiksberg (next to Frederiksberg Metro).
Accessibility: The room is located on the second floor. An elevator located in the canteen area of the building can take you there. Limited space for the event, secure your seat by signing up now.


Programme*:
09.00 - 09.05 Welcome by the moderator, Rikke Kristine Østergaard, Director, Advice and Podcaster of 'Karrierekvinder' 
09.05 - 09.20 Welcome by Benjamin Hansen, Organisational Chair, Copenhagen Pride and Alex Klinge, Equal Opportunity Officer and Associate Professor, Copenhagen Business School

09.20 - 09.25 Introduction by moderator Rikke Kristine Østergaard 
09.25 - 09.35  Copenhagen Business School: Jannick Friis Christensen, PhD, Postdoc - 'Norm-critical perspectives on LGBTQIA+ workplace inclusion' 
09.35 - 09.45 Danske Bank: Ninna Køhrsen, Danske Bank Rainbow Network - 'A grass-root approach to D&I collaboration' 
09.45 - 09.55 Coca-Cola: Annette Spanggaard, Public Affairs, Communications, and CSR Director - 'Alignment of the Diversity & Inclusion Agenda on a global scale' 
09.55 - 10.05 Maersk: Wallace Wang, Global Diversity, Equity and Inclusion Partner Maersk – 'Building LGBTQ+ advocacy coalition with our customers' 
10.05 - 10.15 Google: Martha Ivester, Head of Brand and Reputation – 'What Google has learned about creating inclusivity for LGBTQ+ consumers, businesses and employees' 
10.15 - 10.25 ISS: Bianca Hermansen, Director of Business Development - 'The D&I Hero Pilot Programme.' 
10.25 - 10.30 Brief Interlude (audience participation) 
10.30 - 10.55  Panel Debate 
10.55 - 11.00 Conclusion by moderator Rikke Kristine Østergaard

*Programme may be subject to change
Organizer Contact Information
Copenhagen Business School
Phone: +45 3815 3865
bisplatforms@cbs.dk
Organizer Contact Information
Copenhagen Business School
Phone: +45 3815 3865
bisplatforms@cbs.dk