Here's to the future: Five years of the Diversity Platform of CBS
---
Date and time
Thursday 13. October 2022 at 15:00 to 19:00
Registration Deadline
Thursday 13. October 2022 at 14:00
Location
The Foyer at Kilen, Kilen, 2000 Frederiksberg The Foyer at Kilen
Kilen
2000 Frederiksberg
Here's to the future: Five years of the Diversity Platform of CBS
---
Event Description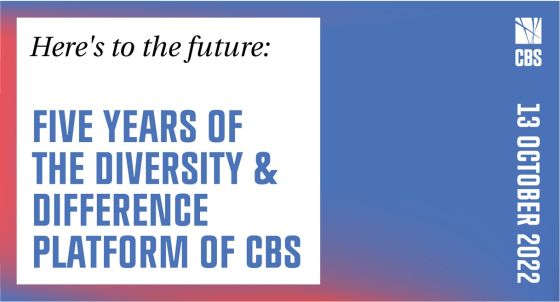 The 5-year life cycle for the current Business in Society Platforms at CBS is finishing at the end of the year, and we are starting the celebrations early, taking stock, and laying down future perspectives for the Diversity and Difference platform.
We invite you for an afternoon with research-insights, a panel debate, playing with our research-based tools for practice, and rounding it off with a reception including food, drinks, and fantastic music. 
Programme
Grab a coffee on your way in – welcome 😊
15:00-15:30
Welcome, taking stock and looking to the future. Inger Askehave, Florence Villesèche & Sara Louise Muhr
15:30-16:00
New research and practical implications presented by CBS researchers affiliated to the platform.
Claudia Eger, Christoph Houman Ellersgaard, Aleksandra Gregoric, Bontu Lucie Guschke, Dario Pozzoli
16:00-16:30
Panel debate – the future of the academia-practice dialogue. 
Tanja Juul Christiansen, Partner, PA Consulting 
Steen Rode, Chief Executive Partner, Bech-Bruun
Ingrid Uppelschoten Snelderwaard, Chief Diversity, Equity & Inclusion officer, A.P Møller Maersk
Martyna Sliwa, Professor, Durham University, UK
Mustafa Özbilgin, Professor, Brunel University, UK
Moderator: Muneeza Rosendahl, Direktør, Lige Adgang

16:30-17:30
Time to be active! Discover some of the research-based tools for practice that our researchers have developed. 
Facilitators: Jannick Friis Christensen, Claudia Eger, Sara Louise Muhr, Brittany Perry, Stina Teilmann-Lock, Florence Villesèche
17:30-19:00Reception – good food, bubbles, and DJ Aviaja to conclude in a festive way.