IKON seminar
---
Date and time
Tuesday 27. September 2022 at 09:30 to Wednesday 28. September 2022 at 14:00
Registration Deadline
Thursday 8. September 2022 at 15:00
Location
Bautahøj, Bautahøjvej 39, 3630 Jægerspris Bautahøj
Bautahøjvej 39
3630 Jægerspris
IKON seminar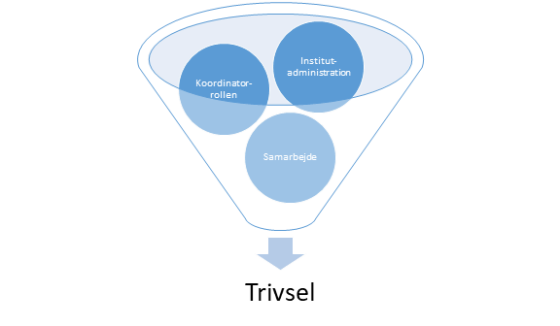 Kære Institutkoordinatornetværk

Det er tid til at tilmelde dig vores seminardage på Bautahøj den 27-28 september 22. Vi skal på dagene arbejde med vores rolle som institutkoordinator, vores trivsel og relationer på tværs af CBS. Det bliver to inspirerende dage, hvor vi både skal arbejde fokuseret og have det sjovt sammen. Det er nemmest at komme derop med bil, så skriv gerne i kommentarfeltet om du har bil og kan tage andre med også. Prisen pr. deltager ligger på ca. 2.200 ex moms for 1,5 dag.

Dag 1:
09.30 – 10.00 – Ankomst
10.00 – 11.30 – Institutadministration
Formålet med denne session er at dykke ned i institutadministration, som en central del af alle 11 institutter.
Hvad er god institutadministration? Hvor er snitfladerne til andre enheder og roller på CBS?
11:30-12:30 – Koordinatorrollen (fortsættes efter frokost)
Som institutkoordinatorer udfylder vi en særlig rolle i forhold til samarbejdspartnere internt og eksternt.
Hvad skal der til, at vi trives i rollen? Hvilke elementer kan vi arbejde med for at styrke vores egen trivsel og dermed også styrke rollen?
12.30 – 13.30 – Frokost
13.30 – 15.30 – Koordinatorrollen og karakterstyrker
Vores styrker er det, der giver vores færdigheder vinger.
I denne session skal vi arbejder med vores styrker i form af spillet "Styrkehistorier", der er baseret på forskning indenfor positiv psykologi.
15.30 – 16.00 – Pause
16.00 – 18.00 – Sociale aktiviteteter
18.00 – 19.00 – Pause
19.00 – 21.00 – Middag
Dag 2:

08.00 – 09.00 – Morgenmad og tjek-ud
09.00 – 11.00 – IKON netværket
Stærke relationer og samarbejde er nøglen til vores trivsel på arbejdspladsen.
Med denne session ønsker vi at diskutere, hvordan IKON netværket kan bruges til at spille os alle sammen stærkere.
Hvad ønsker vi af netværket i fremtiden?
11.00 – 11.20 – Afrundning og next step
11.30 – 12.30 – Frokost og afgang


På gensyn til nogle herlige produktive dage i godt selskab. 

Anja, Majbritt og Lise
Organizer Contact Information
Copenhagen Business School
MSCevent
Phone: +45 3815 3815
event.msc@cbs.dk
Organizer Contact Information
Copenhagen Business School
MSCevent
Phone: +45 3815 3815
event.msc@cbs.dk