Big Questions Little Time - Webinars on Sustainable Development
---
Date and time
Thursday 29. September 2022 at 14:00 to 15:00
Registration Deadline
Thursday 29. September 2022 at 14:00
Location
Webinar (Zoom) Webinar (Zoom)
Big Questions Little Time - Webinars on Sustainable Development
---
Event Description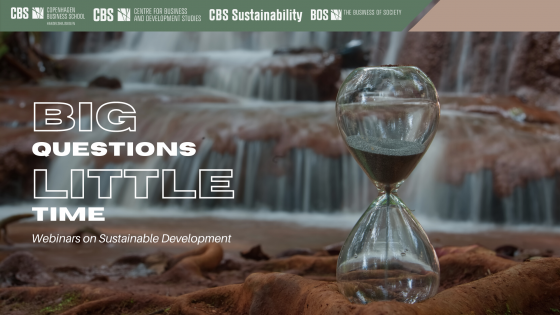 Big Questions Little Time - Webinars on Sustainable Development  - 29/09/2022 14.00-15.00 (CET)

Come and join CBS Sustainability and Center for Business and Development Studies for our next webinar in the series Big Questions Little Time - Webinars on Sustainable Development.

"Can nudges help us to get to net zero? If so, how?" featuring Lucia Reisch, El-Erian Professor of Behavioural Economics & Policy, Director of the El-Erian Institute of Behavioural Economics & Policy, Professorial Fellow of Queens' College
Abstract: 

Climate change is one of the existential risks of today. How can the demand side of markets be motivated to contribute to limiting greenhouse gas emissions as needed? The 6th IPCC Assessment Report features a new chapter on demand-side climate politics. It is the first time within the IPCC process that consumer behaviour – avoid, shift, improve consumption choices - is spotlighted. At the same time, in light of the war in Ukraine and unheard energy security risks, public debate and politicians' interest have recently turned to feature behaviour change as a promising option. In this talk, I discuss the opportunities and limits of demand-side policies, specifically behavioural insights-based policies. Where do we stand? What do we know? Where is the evidence still scarce? What are the limits to using behavioural approaches in liberal societies? 



About Lucia Reisch:
Lucia brings two decades of experience with high-level policy consulting on consumer behaviour and behavioural policy. She has been founding chair of the Advisory Council for Consumer Affairs of the German Federal Ministry of Justice and Consumer Protection (2014-2018). She has also been a member of the German Bioeconomy Council, the German Council for Sustainable Development (2010-2019), and a regular member of high-level scientific committees and ad hoc groups consulting for the German Chancellor Angela Merkel on sustainability issues (eg the Ethics Commission after Fukushima, 2011). Beyond the German government, Lucia has consulted for international organisations (EU, OECD, UNEP, World Bank, Inter American Bank) and governments worldwide on making use of behavioural insights.
Lucia is the Editor-in-Chief of the Journal of Consumer Policy (SpringerNature), and on the editorial board of Behavioural Public Policy (Oxford University Press) and Food Policy (Elsevier). She is a contributing author to the Intergovernmental Panel on Climate Change (IPCC) 6th Assessment Report. Her academic achievement has been rewarded with being elected as a lifelong member of the German National Academy of Science and Engineering. At Queens' College, she is Academic Director of the YNOT Institute. She is also a honorary Leibniz Professor at the Leibniz Institute for Prevention Research and Epidemiology in Bremen, and an Elected Member of the Technical Academy of Science of Germany.

Professor Reisch was a professor of consumer behaviour and policy at Copenhagen Business School prior to joining Cambridge Judge Business School.

About the webinar series:
This idea behind this webinar series is to bring in international thought leaders, representing a wide variety of fields and disciplines. Following the same structure for each seminar, we wish to critically explore if, how, and under which conditions any given approach can bring about change and contribute to sustainable development. 

The title of this webinar series refers not only to the inherent urgency for us to find possible solutions to the societal challenges we are facing, but also the 60 minute time frame for each session. 

On this site, you can find more information on the sessions. If you wish to stay in the loop and attend the live sessions, please sign up for the monthly CBS Sustainability newsletter or contact the centre manager of both centres, Sarah Netter.

Organizer Contact Information
Copenhagen Business School
CBS sustainability
Phone: +45 3815 3815
sustainability@cbs.dk
Organizer Contact Information
Copenhagen Business School
CBS sustainability
Phone: +45 3815 3815
sustainability@cbs.dk