Love Suits Everyone: CBS @ Copenhagen Pride: Pride Week 13 - 21 August
---
Date and time
Saturday 13. August 2022 at 09:00 to sunday 21. August 2022 at 16:00
Location
Copenhagen/Frederiksberg Copenhagen/Frederiksberg
Love Suits Everyone: CBS @ Copenhagen Pride: Pride Week 13 - 21 August
---
Event Description
CBS @ Copenhagen Pride 2022 has academic events as well as the parade! Check them out below and SIGN UP for the parade!!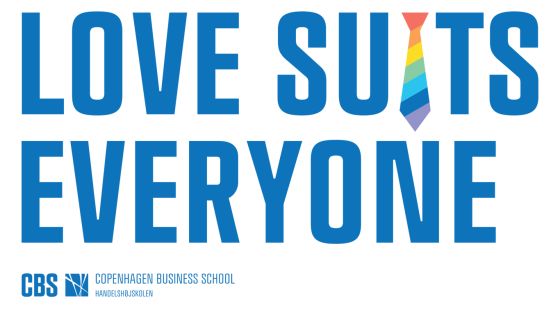 Being part of Copenhagen Pride 2022, CBS wants to celebrate being an inclusive study and work environment, and we want you to be part of it!
THE PARADE: Saturday 20 August 
Love Suits Everyone: CBS @ Copenhagen Pride Parade
starting at Frederiksberg Rådhus/City Hall (Frederiksberg Bredegade in front of 4. Maj Kollegiet) at 13:00.
Please come and get your t-shirt at 12:00
.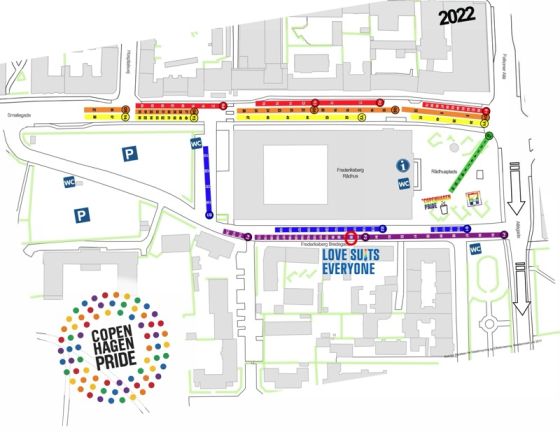 We've got the truck &
DJ Aviaja
booked, the flags ready, the plant-based glitter is good to go...
we just need you!


Sign up on this page to receive relevant communication about the parade, e.g., meeting points, t-shirts etc..

CBS Code of Conduct

Looking forward to welcome you and walk together!



Looking to make some banners for the parade? Check out this by Colorful CBS:

"As part of CBS' Pride Activities we will paint banners for the Pride parade & a rainbow bench for CBS campus. Please come and join us as we need many helping hands!"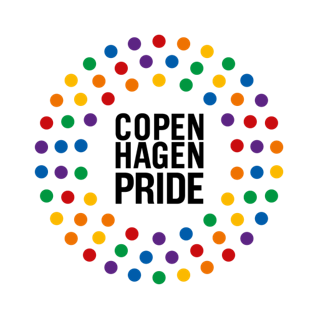 ACADEMIC EVENTS: Everyone is welcome to join! 
Sign up is not required unless stated.
There has recently been a flurry of popular books denouncing global, cynical C-suite capitalists, who exploit diversity and fake corporate morality in order to maintain their position of power in a highly exploitative system. Interestingly, these complaints can be heard – of course in somewhat different forms – both on left-wing community radio stations as well as on prime time Fox News. At this event, three panel members will apply a form of strategic naivety to discuss whether 'woke capitalism' actually exists, and what civil society activists can do to protect their movements from openly exploitative co-optation of their causes by PR and marketing strategists. Discussants include Carl Rhodes, whose book 
Woke Capitalism
(2021, Bristol University Press) offers a seminal critique of programmes to reengineer democracy for corporate purposes, and Danish journalist Mathias Sindberg, whose recent series of articles on woke capitalism in 
Information 
proved to be enough of a sting to provoke the CEO of Mærsk and the communications officer of Philip Morris to write rejoinders.
"
It is easy to complain about problems such as pinkwashing, but how can we hold corporations accountable and how can we create lasting and meaningful change? This workshop makes an active contribution by finding new solutions that are actionable and inspire more sustainable corporate support of PRIDE events, beyond one-time donations for a positive marking effect. We encourage participants to see this problem from many different points of view, critically examine the often taken-for granted social norms that support it and to co-create new ways changing such them – and so addressing the problem with it."


"CBS' Professor (MSO) Sara Louise Muhr will participate in this event about what diversity mean for a sustainable future and sustainable entrepreneurs? Why is diversity important when you want to create a professional, positive change? Organised by DISIE"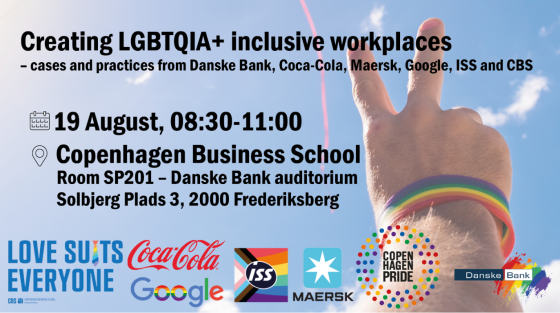 "Companies, with documented experience working with and for diversity and inclusion in their organisations, share knowledge and insights during this year's Copenhagen Pride Week. We hope that workplaces, especially those that may lack the capacity to work with D&I more systematically, will find inspiration and leave the event with new ideas for initiatives."
NEED MORE INFO?
Not sure where the venues are or want to know more about Copenhagen Pride, check out the full programme on
their website
.
Any queries about our events, please email
diversityplatform@cbs.dk
.
Joining the parade and want more updates on all these exciting events?

Sign up NOW!!  -->>

We look forward to seeing you at Copenhagen Pride 2022!
#LoveSuitsEveryone